INFORMATION CALL: Cathedral City Police (760) 770-0300
Issuing Employee: Commander Paul Herrera – 760-770-0308 – pherrera@cathedralcity.gov
Type of Case: Fatal Traffic Collision / Case #1810C-3574
Date/Time Reported: October 16, 2018 / 2:04 AM
Location of Occurrence: 29000 Block of Date Palm Drive, Cathedral City CA
Name:  Lenette Saubel (passenger/victim)
Age:       46
City of Residence:  Cathedral City, CA
Name: Mario Garcia (driver/arrestee)
Age:    47
City of Residence: Cathedral City, CA
Synopsis of Incident: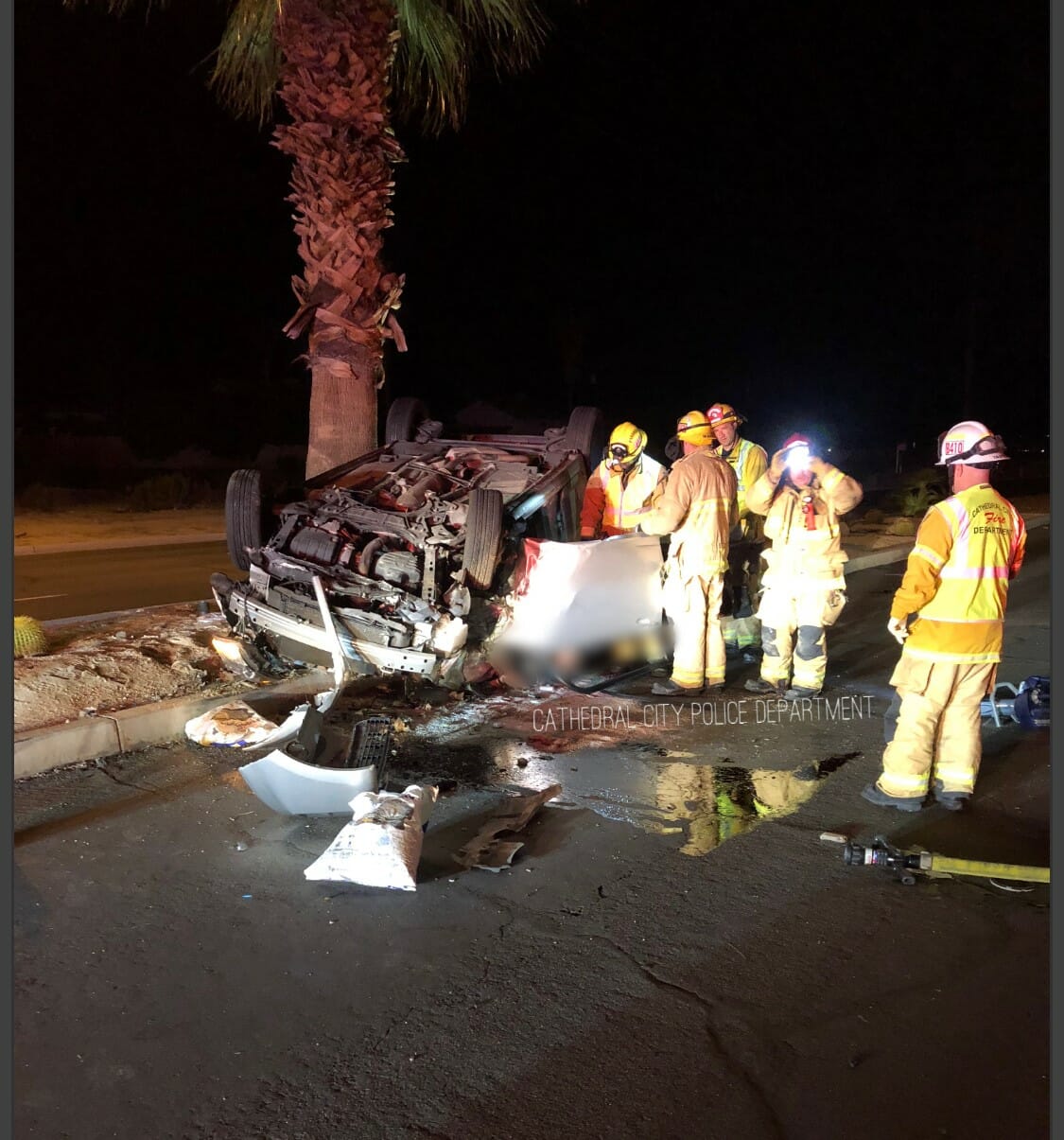 On Tuesday, October 16th, 2018, at 2:04 am, Cathedral City Police Officers were dispatched to a single vehicle rollover traffic collision in the northbound lanes of Date Palm Drive near Tachevah Drive and Tortuga Rd.  Cathedral City Fire Department paramedics were also dispatched to the scene.  Officers located a vehicle partially in the roadway and on the median that divides southbound and northbound lanes.  Fire Paramedics immediately started administering aid to injured parties identified as a driver and a passenger.  The male driver was transported to a local hospital for minor injuries.  The passenger, a 46-year-old female Cathedral City resident, succumbed to her injuries at the scene and was pronounced deceased by paramedics.  The Cathedral City Police Department Traffic Investigation Team responded to conduct a full collision investigation and Cathedral City Public Works assisted with closing Date Palm Drive and re-routing motorists around the traffic collision scene.  (Date Palm has since been re-opened for motorists.)
The driver of the vehicle was treated and released from a local hospital.  After being treated and released, he was arrested by Cathedral City Police officers for homicide and gross vehicular manslaughter.  He is identified as: Mario Garcia, a 47-year-old Cathedral City resident.  He was booked at the Smith Correctional Facility in Banning and is being held on one million dollars bail.
The deceased victim was positively identified by the Riverside County Coroner's Office as: Lenette Justina Saubel, a 46-year old Cathedral City resident.
We remind you to not drink and drive, and if you see a suspected drunk driver please call 9-1-1.  The Cathedral City Police Department is encouraging anyone that may have any information regarding this collision to call 760-770-0300 and speak to a traffic collision investigator.
**End of Media Release**