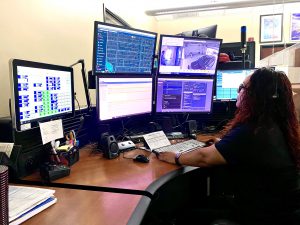 The Cathedral City Dispatch Center is staffed 24 hours a day, 7 days a week and currently employs 2 Dispatch Supervisors and 14 full time dispatchers.  Along with dispatching for the Cathedral City Police they also handle all communications for Cathedral City Fire Department and the Desert Hot Springs Police Department. Our staff of dispatchers answers approximately 13,000 emergency and non-emergency phone calls a month. Click here for our call stats.
It is the responsibility of the police dispatcher to quickly and accurately identify the nature of each call. The dispatcher is the critical link between the citizen and the first responder in the field.  Dispatchers are also responsible for tracking field units and their assignments with the use of a computer aided dispatch system and a newly upgraded radio system – ERICA.
The dispatch center receives a variety of calls, which may vary from a simple request for information to a report of a life threatening emergency.  Dispatchers must ask specific questions of the caller to accurately prioritize the call and to assign the necessary personnel to handle the situation.  In times of distress or emotional upset, it is often difficult for citizens to understand the reasoning behind dispatchers' questions.  However, our dispatchers receive extensive training on the appropriate line of questioning to pursue in order to best ensure the safety of members of the community as well as officers in the field.
When calling for service to a non-emergency situation we ask your patience in waiting for the arrival of a police officer, as emergency calls take priority. The officer will respond to your call as soon as possible.
When calling the dispatcher will ask for the following information (if it pertains to your call for service):
Is this a police, fire or medical emergency
Location of the emergency
Type of incident
Is it in progress?
Suspect description (name and date of birth (if known), race, sex, height, weight, and clothing)
Was the suspect on foot, a bicycle or vehicle; What is the description of the vehicle or bicycle (color, year, make, model, license plate) if known?  Direction of travel;
If you wish an officer to contact you at home or business let the dispatcher know. (This means an officer will go to your business or home – not call you)
You will be asked to give your name, address and telephone number (anonymous accepted). Please remain on the phone to provide additional information as requested.
DO NOT hang up until the dispatcher advises you to do so.
ALLOW the dispatcher to ask the necessary questions
TRY TO REMAIN CALM
EXAMPLES of EMERGENCY CALLS

In progress crimes
All reports of fire
In progress shootings / stabbings
Thefts in progress or just occurred
Any medical emergencies
Traffic collisions with injury
In progress altercations involving a weapon
Any life threatening situation

EXAMPLES OF NON-EMERGENCY CALLS

Loud party or music
Parking violations
Barking dog
Road information
The traffic light is not working properly/broken
Non-injury traffic accidents
My car was towed. How do I get it back?
Past incidents with no suspect present