Chief George Crum became the Chief of Police in Cathedral City on December 10, 2014. He retired on November 2, 2017. He was reappointed February 24, 2020 Interim Chief. He was made permanent chief April 23, 2020.
He began his law enforcement career as a police officer in 1987 when he joined the Fullerton Police Department. He was promoted to Corporal in 1996, Sergeant in 2003, Lieutenant in 2008 and Captain in 2012. During his 30+ year law enforcement career, he has worked assignments in the Patrol Bureau, Traffic Bureau, Narcotics Unit, Crime Impact Unit, Internal Affairs and Special Weapons and Tactics.
Chief Crum holds an associate of science degree in police science from Fullerton College, a Bachelor of Arts degree in Criminal Justice from California State University Fullerton and a Master of Science degree in Emergency Services Administration from California State University, Long Beach. Chief Crum possesses his Executive Certificate which was issued by the Commission on Peace Officers Standards and Training and he is a graduate of the Sherman Block Supervisory Leadership Institute.
He is a Drug Recognition Expert and state recognized expert in DUI alcohol and Drug cases. He offers expert testimony in narcotics cases, impaired driving cases and vehicular homicide cases. He has trained and certified approximately 500 Officers as Drug Recognition Experts throughout California since 2004. He was honored by The California Office of Traffic Safety in 2011 as a California Law Enforcement Challenge Award winner for his statewide efforts in DUI and DUI-Drugs. He was awarded the first ever DRE Excellence Award by M.A.D.D. in 2014.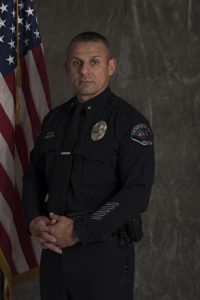 Commander
Julio Luna
Phone: (760) 770-0315
Commander Luna is currently assigned as the Operations Division Commander. He is the current Assistant Commander of the Desert Regional SWAT Team.
Commander Luna joined the Cathedral City Police Department as a Police Officer in 1992. He holds a Master of Science in Education and Bachelor of Science in Education from Southern Illinois University. Commander Luna is a graduate of the Supervisor Leadership Institute and the California POST Management Course.
During his 23 years of service, he has worked several assignments, including Patrol, Investigations, and Gangs. He has also served as a Department instructor in arrest & control techniques, self-defense, baton, and range.
Commander
Dane Dickson
Phone: (760) 202-2421
Commander Dickson is currently the Department's Investigation Division Commander. He began his career with the Laguna Beach Police Department and has been with CCPD since 2000.
During his career at CCPD, Commander Dickson has been assigned to the Detective Bureau, the Coachella Valley Narcotics Task Force and served as a Field Training Officer. As a sergeant he supervised patrol, the Crisis Negotiation Team for Desert Regional SWAT and was assigned to the Professional Standards Bureau.
He holds an undergraduate degree from Southern Illinois University in Education. He is a FAA certified UAS (drone) pilot and supervises the UAV program.