Have you ever wondered how to get involved, serve your community and have fun?
Citizens on Patrol

is just what you are looking for!
Cathedral City Citizens on Patrol (COPs) is a non-profit, volunteer organization, which consists of a group of dedicated volunteers organized to serve as ambassadors of the City and the eyes and ears of the Cathedral City Police Department. Cathedral City COP members are not police officers; rather, they are a valued resource to the Cathedral City Police Department and an integral strategic partnership for ensuring safe homes and communities through community policing.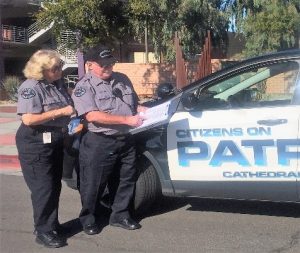 Citizens on patrol have the opportunity to work in different areas of the Police Department, such as;
Patrol
Records
Traffic Bureau
Special Events
Major Incidents
New opportunities are opening up for COP to assist the department every year. All COP personnel receive special training from sworn police officers and attend monthly meetings. Cathedral City Citizens on Patrol are a tremendous help to the department in so many other ways. Come join NOW!
If you would like more information on the Citizens On Patrol program, please contact Sgt. Heather Olsen by email or phone at (760) 770-0306.