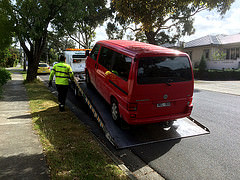 Requirements
Vehicles will only be released to the registered owner. The only exception is with a notarized letter or power of attorney.
The requestor must have a valid driver's license or must be accompanied by a licensed driver.
The vehicle must be currently registered, or a moving permit must be obtained from the Department of Motor vehicles.
FEES
$155.00 release fee for Impounded Vehicles – 30 Day Holds
$110.00 release fee for stored vehicle.
Cash, Check or Creditcard ( Visa or Mastercard) are accepted as payment during normal business hours (Monday thru Friday 8am to 5pm). Only cash is accepted afterhours, weekends and holidays.
Impound Lot
YOU MUST GET A VEHICLE RELEASE FORM FROM THE POLICE DEPARTMENT BEFORE GOING TO THE IMPOUND LOT!
Hours of Operation:
Open 24/7.
During regular hours, Monday thru Friday 8am to 5pm, cash, check or Visa/Mastercard are accepted for payment.
After hours, weekends and holidays only cash is accepted.