This page lists many of the questions most frequently asked of the Cathedral City Police Department. Additional FAQ pages are available concerning our Online Crime Reporting System and the department's Alarm Response Policy. These are available via special buttons (at the left) or from their respective pages of this site. If you have any other questions that are not answered on this site. Please feel free to call or email us so we can answer your question and post it here for others.
General Information:
The Watch Commander is usually a Sergeant or Lieutenant who is responsible for patrol operations of the police department. There is one on duty at all times.
Report copies are generally available 7-10 working days after the report is taken. There is a service fee. Copies may be requested in person, or by mail upon payment of the fee. Call (760) 770-0304 for further information or check out the
Records
section of the website.
Miscellaneous property, i.e. TV's, DVD Players, guns, etc. with serial numbers are entered into a national computer system containing stolen property. Cars and motorcycles are entered as soon as possible. Other stolen property may also be put out on a teletype and flyer to local police agencies, depending on the uniqueness of the item.
No. A case will be assigned to a detective for follow-up investigation based on specific factors and evidence obtained during the initial investigation. Studies indicate that the presence of these factors can predict whether a detailed follow-up investigation would likely result in the arrest and prosecution of the suspect(s) or the recovery of property.
Due to the fact that they are in and out of the station, it is best to Phone (760) 770-0303, during business hours and make an appointment.
Monday thru Friday, 9 a.m. to 4 p.m. This is the period when most people are away from their home.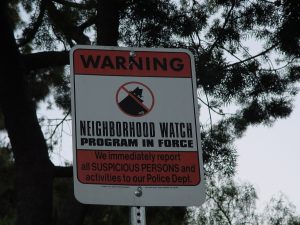 It is a partnership between police and the community to educate residents on how to prevent crimes against themselves and their property, to encourage the reporting of suspicious activity, and to maintain a lookout of neighbor's homes. For more information, call (760) 202-1498.
C.O.P. is an acronym for Citizens on Patrol.
The Cathedral City Police Department's Citizens on Patrol (COPs) are a tremendous help to the police department and the community. You may see our COP car driving through your neighborhood looking for unreported crime, towing abandoned vehicles, or directing traffic at a traffic collision. Our COPs receive training from sworn police officers and attend monthly meetings. Not only are they an extra set of eyes and ears for the police department, but they serve as ambassadors of the City.
If you would like more information on the citizens on Patrol, please call Sgt. Larry Sanfillippo at (760) 770-0306.
It is most likely that the police are searching for a felony suspect. Lock your doors and if it's dark, turn on all your outside lights. Do not call the police unless you see somebody or hear something suspicious as the police are usually very busy during any search.
Solicitors "for profit" organizations must have a permit from the City's Licensing Division. Also, ask the solicitor for a business card or company Identification containing a phone number to call and verify legitimacy of the solicitor.
Please call (760) 770-0313 and you will be put in touch with the appropriate person. Please check the web site
e-mail and phone directory
as well to find the proper contacts.
Alarms:
The City took great effort to reach as many citizens and business owners about the new ordinance as possible by utilizing various resources and tools. In November 2011, the Police Department made a public presentation regarding the new ordinance to the City Council. The presentation was included in the City Council Agenda prior to the meeting, and was also made available for public comments. The ordinance was presented to City Council again for a second reading in December 2011, again with prior notice in the Council Agenda and public comments. With approval from the City Council, the ordinance was passed into law to become effective January 15th, 2012. After the ordinance was passed in December 2011, information about the alarm permit and fees were provided to local radio, news media outlets, realty boards, and alarm industry companies asking for their assistance in notifying their customers of the changes. The City also utilized an automated calling system to alert citizens of the new ordinance and alarm permit, sending out an automated message in December and another in January.
Since August 1st, 2010, the Cathedral City Police Department had been utilizing a Verified Alarm Response Policy (VAR) to evaluate and respond to residential and business alarms. Verified Alarm Response was implemented due to excessive false burglar and robbery alarms and a lack of resources and personnel to adequately respond to those calls. In order to better serve the community, the Police Department conceived a new approach to addressing the concerns of our residential and business districts in order to once again respond to ALL alarms in the City without the need for verification.
No, it is not true. The City Municipal Code requires that all residential and business alarm users obtain an
alarm permit
with the City. Alarm users who do not obtain a permit are subject to a $100 fine for their first false alarm response.
Yes, the Police Department is responding to all residential and business burglar alarms in the City, regardless of the cause of activation.
The purpose of the new ordinance and fees is to provide a mechanism for alarm users and their alarm monitoring companies to develop a better relationship with one another, so that instances of false alarms are reduced. The funds generated from alarm permit fees and false alarm response fines will be used to pay for volunteer Reserve Police Officers to respond to alarm calls, while full-time Police Officers will still be available and on the street responding to more immediate and serious incidents.
Yes, there is a requirement for an alarm permit; however, the decision on who is responsible for the alarm permit and who is responsible for any false alarm fees will need to be worked out between the homeowner and the renters. For example, if a homeowner completes the permit application in their name, they become the responsible party for any false alarm response fees that the renter may incur.
No, you do not need to have an alarm permit, if your alarm system is strictly a medical crisis alert system. The new ordinance only applies to burglary and robbery alarm systems.
Traffic:
If there are no signs indicating otherwise, you can leave your car in one place for up to 72 hours.
No, quotas are illegal. However, police officers are expected to enforce traffic laws during their shift.
Sometimes Police Officers stop people because they match the description of a suspect in a recently report crime, or simply for a traffic violation. If you are stopped, pull over to the right side of the road and park. Keep your hands on the steering wheel and do not make sudden movements, or reach under the seat, or into hidden areas.
This is to protect the officer from being struck from the rear by approaching vehicles.
Yes, when time allows or the violation is called to their attention.
You have a right to a post impound hearing within 10 days after receiving notice of the vehicle impound. Any such hearing will be conducted within 48 hours of receipt of the request, excluding weekends and holidays. If you wish to obtain such a hearing, contact the Watch Commander at (760) 770-0313.
When you are the driver of a motor vehicle involved in an accident on a public street or highway resulting in injury or death of any person, or property damage to any one vehicle(including the driver's) in excess of $500, you must within ten days report the accident on a Department of Motor Vehicles SR-1 form.
Yes, skateboarding is allowed wherever it is legal for a pedestrian to go, except where there are signs prohibiting skateboarding.
No. If a crime took place outside of the City of Cathedral City, please call the police department for that city. The only exception to this issue is if you are the victim of identity theft or credit card fraud, then it does not matter where the crime occurred. The police department will accept a report. If you need assistance finding a particular police department's phone number please call our Records Division at 760-770-0300.
If this took place in a county area of Riverside, you need to call the Riverside Sheriff's Department.
A known suspect is when you or someone else physically witnessed the suspect(s) commit the crime, or where to find the suspect(s) who committed the crime, or the license plate number of the vehicle the suspect(s) were driving.
This is not defined as a known suspect. Please list this person's name in your narrative description, and why you believe they are the suspect.
If this took place on a State Freeway, please call the Highway Patrol Office nearest you.
This is still considered part of a State Freeway, so please call the Highway Patrol Office nearest you.
Yes. However, if the nature of the identity theft or credit card fraud is extensive and there is evidence leading to the possible identification of a suspect, please call the Cathedral City Police Department non-emergency line at 770-770-0300 to report the incident. An officer may need to respond for this type of investigation.
If you know the serial number (which is usually only obtained if you look at the item and record the serial number from the item, packing materials and receipts generally have item numbers or store related codes not serial numbers) do not use this reporting system. Please call the police department and an officer will respond.
When evidence exists that can possibly identify the suspect(s) of a crime, please call the Cathedral City Police Department and we will send out an officer to conduct an investigation.
No. An officer must physically take a report for the theft. Please call the police department to report the crime.
No. An officer must take a report for a lost or stolen gun. Please call the police department to report the incident and an officer will respond to your location.
Each online police report will be reviewed. Filing a false police report is a misdemeanor crime under California Penal Code Section 148.5. False reports will be investigated and prosecuted to the full extent of the law.