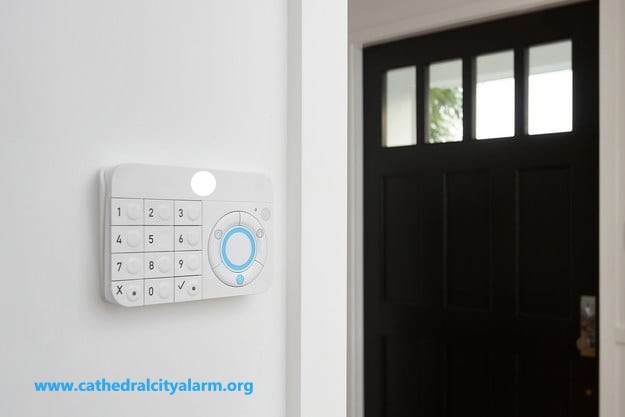 False security alarms are very costly and prevent police officers from responding to actual emergencies. A false alarm is any alarm signal which causes police department response when an emergency does not exist. The City of Cathedral City requires residences and commercial businesses with alarm systems to obtain and maintain an annual alarm registration permit and reimburse the City for excessive false security alarms. The City allows up to 1 false alarm within a 365 day period with no charge. False alarm fines begin with the 2nd response.
The current ordinance became effective January 15th, 2012. All residents and businesses with an existing or new alarm system were required to obtain an Alarm Users Permit with the City at an initial fee of $35 for the first year, and an annual renewal fee of $30 for each subsequent year. Alarm User Permits will be valid for 365 days from the time the alarm permit fee is received. The Alarm Users Permit will be made available at the Cathedral City Police Department, as well as online on the following website:
Homes and businesses with valid Alarm User Permits will be allowed one false alarm response per year without incurring any false alarm response fees.  Homes and businesses without Alarm User Permits will be fined $100 for the first false alarm response.  In the event of a second false alarm in any 365 day period, permitted alarm users will be given the option of completing an online alarm education course to reduce the response fee for the second false alarm
Here is some of the alarm fee information:
Initial Alarm User Permit: $35

If obtained 90 days after alarm activation (late fee) $55

Annual Alarm Permit Renewal: $30

If renewed within 30 days of expiration date $30
If renewed more than 30 days after expiration date $40
If renewed more than 90 days after expiration date $50

Second False Burglar Alarm* $100
Third False Burglar Alarm* $150
Fourth or more False Burglar Alarm* $200
Second False Robbery Alarm* $100
Third False Robbery Alarm* $150
Fourth or more False Robbery Alarm* $200
Re-issued Alarm User Permit* $200
First Response to Non-permitted Burglar or Robbery Alarm* $100
Second or more Response to Non-permitted Burglar or Robbery Alarm* $200
Online Alarm Education - Diversion Course $25

*(Within ANY 365 day period)
Alarm permit applications can be completed and all fees and fines can be paid for online.
The new Alarm Ordinance will be available in the online Municipal Code under Chapter 8.28 Security Alarm Systems at www.cathedralcity.gov after January 15th, 2011.  Alarm User Permit payments should be sent to: Cathedral City Alarm, PO Box 670, Cathedral City, CA 92235.  Alarm inquiries can also be made at 877-716-6383.
Frequently Asked Questions:
The City took great effort to reach as many citizens and business owners about the new ordinance as possible by utilizing various resources and tools. In November 2011, the Police Department made a public presentation regarding the new ordinance to the City Council. The presentation was included in the City Council Agenda prior to the meeting, and was also made available for public comments. The ordinance was presented to City Council again for a second reading in December 2011, again with prior notice in the Council Agenda and public comments. With approval from the City Council, the ordinance was passed into law to become effective January 15th, 2012. After the ordinance was passed in December 2011, information about the alarm permit and fees were provided to local radio, news media outlets, realty boards, and alarm industry companies asking for their assistance in notifying their customers of the changes. The City also utilized an automated calling system to alert citizens of the new ordinance and alarm permit, sending out an automated message in December and another in January.
Since August 1st, 2010, the Cathedral City Police Department had been utilizing a Verified Alarm Response Policy (VAR) to evaluate and respond to residential and business alarms. Verified Alarm Response was implemented due to excessive false burglar and robbery alarms and a lack of resources and personnel to adequately respond to those calls. In order to better serve the community, the Police Department conceived a new approach to addressing the concerns of our residential and business districts in order to once again respond to ALL alarms in the City without the need for verification.
No, it is not true. The City Municipal Code requires that all residential and business alarm users obtain an
alarm permit
with the City. Alarm users who do not obtain a permit are subject to a $100 fine for their first false alarm response.
Yes, the Police Department is responding to all residential and business burglar alarms in the City, regardless of the cause of activation.
The purpose of the new ordinance and fees is to provide a mechanism for alarm users and their alarm monitoring companies to develop a better relationship with one another, so that instances of false alarms are reduced. The funds generated from alarm permit fees and false alarm response fines will be used to pay for volunteer Reserve Police Officers to respond to alarm calls, while full-time Police Officers will still be available and on the street responding to more immediate and serious incidents.
Yes, there is a requirement for an alarm permit; however, the decision on who is responsible for the alarm permit and who is responsible for any false alarm fees will need to be worked out between the homeowner and the renters. For example, if a homeowner completes the permit application in their name, they become the responsible party for any false alarm response fees that the renter may incur.
No, you do not need to have an alarm permit, if your alarm system is strictly a medical crisis alert system. The new ordinance only applies to burglary and robbery alarm systems.