FOR MORE INFORMATION CALL: Cathedral City Police (760) 770-0300
– LOCATED –
Issuing Employee: Commander Jon Enos, 760-202-2415, jenos@cathedralcity.gov
Type of Case: Runaway Juvenile – Case 2204C-4848
Date/Time Reported: April 20, 2022 / 3:34 p.m.
Location of Occurrence: Rio Vista Neighborhood; Cathedral City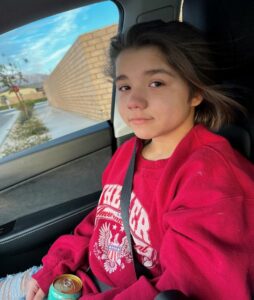 MISSING PERSON INFORMATION:
Name: Baily Jean Prashaw
Age: 12
City of Residence: Cathedral City
---
Synopsis of Incident
UPDATE:
On April 21st, 2022, Bailey was located and returned home unharmed. We want to thank all those who assisted in locating Bailey.
On April 20, 2022, at about 3:34 p.m. CCPD officers responded to the Rio Vista Neighborhood in Cathedral City, regarding a missing juvenile. Officers contacted the parents of 12YO, Bailey Jean Prashaw who said Bailey left the residence on 04/19/22 around 7:00pm after an argument. Bailey's parents attempted to contact her friends to locate her but were unsuccessful. After not returning home, a runaway juvenile report was filed.
Bailey is 5'02" tall, 115 Lbs, Brown hair, Brown eyes. She was last seen wearing the same red sweatshirt depicted in the photo, unknown color shorts and black Vans shoes.
If you have information related to this incident or believe you may have information on Bailey's whereabouts, please contact the Cathedral City Police Department at 760-770-0300; or via the Cathedral City Police Department website at: cathedralcitypolice.com; or email tips@cathedralcity.gov You may also report information anonymously through Coachella Valley Crime Stoppers, by calling 760-341-STOP.