MORE INFORMATION CALL: Cathedral City Police (760) 770-0300
Issuing Employee: Commander Paul Herrera – 760-770-0308 – pherrera@cathedralcity.gov
Type of Release: Public Service Announcement regarding possible sales "scam."
Date Reported: December 11, 2019
Location of Occurrence: Residential neighborhoods in Cathedral City, CA
–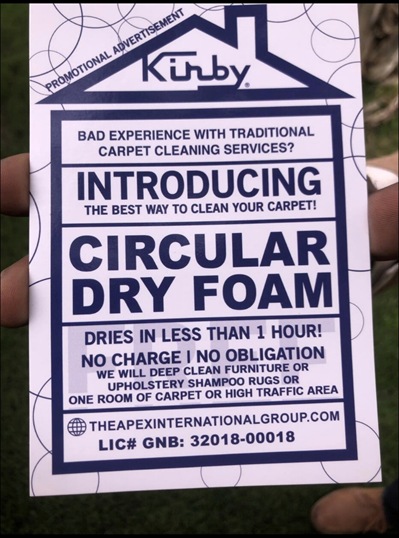 The Cathedral City Police Dept. has received inquiries and tips regarding door-to-door solicitors selling a cleaning system or cleaning product for carpets and floors.  This media release is to ask the public to remain cautionary when dealing with door-to-door sales situations and this media release does not represent an opinion about the product.
Cathedral City Police have received reports from residents about sales personnel working in the late evening hours, being "pushy" or "assertive and demanding."  Some social media posts have added sales staff will ask to enter a residence to demonstrate their product, but it will be difficult to get them to leave.
Cathedral City Detectives researched the information flyers or doorhangers and have found the company's info posted to a privately-ran website, providing an opinion about sales-products that are possible "scams."
https://www.watchforscams.com/kirby_vacuum_scam.html
We have attached a copy of the brochure/flyer being handed out (see below).
Upon looking at the business name – there is no listed address and/or phone number attached to the brochure.  The website: THEAPEXINTERNATIONALGROUP.COM was researched and does not seem to exist.  The business license number is also nonexistent.
It is important to note CCPD has NOT received any reports of assaults, burglaries or thefts by the above-mentioned salespeople.  Again, it is important to note the Cathedral City Police Department is not providing an opinion about the product.  We are however, providing an opinion about residential safety, situational awareness and applying caution when answering your residential door – especially when allowing unidentified people into your home.
CCPD recommends that you verify who you are talking to before answering the door.  We caution against allowing unknown or unidentified people to enter your residence.  We recommend being accompanied by a neighbor or a trusted person, as opposed to a solo contact.  We recommend asking someone to leave if you feel unsafe and maintain a phone line for contact with the police if necessary.
Please contact CCPD if necessary, at 760-770-0300 or cathedralcitypolice.com.