FOR MORE INFORMATION CALL: Cathedral City Police (760) 770-0300
Issuing Employee: Commander Paul Herrera – 760-770-0308 – pherrera@cathedralcity.gov
Type of Case: Homicide Investigation – UPDATE ON ARREST / #2004C-0910
Date/Time of Initial Crime: April 4, 2020 / 1844 hrs.
Location of Occurrence: McCallum Way/ Avenida Alvera, Cathedral City, CA
---
Summary: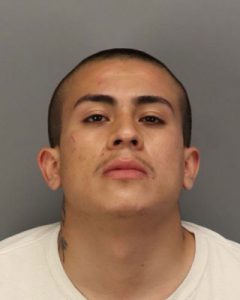 On April 4, 2020, at approx. 1945 hours, Cathedral City Police Department (CCPD) officers were dispatched to the area of Avenida Juarez and McCallum Way regarding multiple gunshots heard in the area.  A short period of time later, officers were dispatched to a second call in the area – a traffic collision involving a vehicle that ran off of the roadway and collided with a tree in the area of McCallum Way and Avenida Alvera.  At the traffic collision scene, officers discovered a male inside of the vehicle, suffering from multiple gunshot wounds.  Officers and Cathedral City Fire paramedics arrived and attempted life-saving efforts.  Unfortunately, the male succumbed to his wounds at the scene and was pronounced deceased.  CCPD detectives arrived and initiated a homicide investigation.
On April 5, 2020, Cathedral City Police detectives – along with the Riverside County Sheriffs/Coroner's Office identified the homicide victim as a 17 year old male (who will remain unnamed) who resided in the City of Hesperia, CA. Cathedral City Police officers and detectives have worked tirelessly to identify and locate the person responsible for the shooting death of a juvenile male. The investigation has included collaboration with other law enforcement agencies along with cooperation from the local community.
On April 6, 2020, at approximately 1930 hours, CCPD Detectives were able to positively identify and locate the person responsible for the shooting.  He was contacted and taken in custody in the 33300 Block of Shifting Sands Trail.  The arrestee, Juan Garcia Landeros, 21, of Cathedral City was booked into the Riverside County Jail for homicide and is currently held on $1,000,000 (one-million dollar) bail.
We ask that if you have been a witness to this crime, have information related to this incident or believe you may have information, please contact Cathedral City Police Detectives at 760-770-0300 or Detective Sergeant Rick Sanchez at 760-202-2488 or via the Cathedral City Police Department website at: cathedralcitypolice.com.