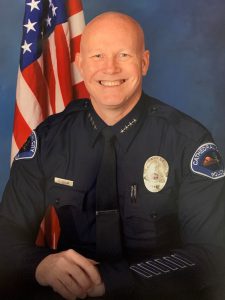 As our community has been adjusting to a new normal in our personal and professional lives, I would like to provide the community with an update on the homicides that have occurred in 2020. I know the three recent homicides reported in the media are concerning to our community.  As your Police Chief, I understand your concerns and it is the position of the Police Department that any one violent crime happening in Cathedral City is one too many.
On Tuesday March 10, 2020, CCPD personnel responded to the area of Avenida El Mundo and McCallum Way to reports that a male was deceased in his vehicle. It was determined the male had been shot and succumbed to his injuries in his car. CCPD patrol officers and CCPD detectives began an intense investigation and within 12 hours of the incident, had arrested the male we believe is responsible for committing the murder. The case was presented to the Riverside County District Attorney's office and they have filed murder charges against this person. He remains in custody.
On Monday March 23, 2020, CCPD personnel responded to the 29000 block of Avenida La Vista regarding an adult male and juvenile female being shot at the location. The male succumbed to his injuries and the juvenile female survived the attack. Once again, patrol personnel and detectives began an intense investigation. Over the next week, 12 search warrants were written and served in four cities within the Coachella Valley. The search warrants produced a large narcotics seizure of 156 grams of mushrooms, 1.42 grams of Oxycodone pills, 102 Hydrocodone pills, 60 Ecstasy pills, 1.5 pounds of methamphetamine, 88 grams of cocaine, 280 Xanax pills, 8.92 grams of heroin and 6.5 pounds of marijuana. In addition to the narcotics seized, detectives seized two shotguns and two handguns. This homicide case was solved a few days after it occurred, and four arrests have been made in this investigation. The individuals arrested in this investigation have been held to answer for a multitude of charges including murder.  They remain in custody.
The third homicide occurred on April 4, 2020 when Officers were dispatched to the area of Avenida Juarez and McCallum. As personnel arrived, it was determined a male had been shot in his vehicle and had succumbed to his injuries. Within 48 hours of the murder, on April 6, 2020, CCPD detectives were able to positively identify and locate the person believed to be responsible for the shooting.  The suspect was taken into custody and is being held on $1,000,000 (one-million dollar) bail. The case was presented to the Riverside County District Attorney's Office and they have filed murder charges against this person. He remains in custody.
In all three homicide cases, CCPD personnel did an incredible job and remained tenacious in their efforts to solve these horrific crimes. We were fortunate to have solid working relationships with other agencies as we utilized outside agency resources to assist us with numerous search warrant services in other jurisdictions.  The commitment to duty, drive and determination of CCPD personnel to solve these crimes elevates the confidence a community has in its police department, enhances the reputation of the department as a whole, and provides a sense of justice to the family and friends impacted by the senseless loss of their loved ones.