FOR MORE INFORMATION CALL: Cathedral City Police (760) 770-0300
Issuing Employee: Commander Rick Sanchez, 760-202-2488 rsanchez@cathedralcity.gov
Type of Case: Homicide Investigation – Case 2203C-6060
Date/Time Reported: March 24, 2022 / 3:28 p.m.
Location of Occurrence: Shifting Sands Trail X Mission Indian Trail
VICTIM INFORMATION:
Name: Juan Gonzalez
Age: 48-Year-Old Male
City of Residence: Unknown
---
Synopsis of Incident
On March 24, 2022, at about 3:28 p.m. CCPD received multiple calls regarding a shooting that occurred near the intersection of Shifting Sands Trail & Mission Indian Trail in Cathedral City. One reporting party told dispatch one male subject was struck by gunfire.
Upon arrival, officers located Juan Gonzalez (48 YO), unknown city of residence, lying in the front yard of residence injured from gunfire. Cathedral City Fire Department Paramedics arrived on scene a short time later and began rendering medical aid. Due to the injuries suffered, Gonzalez succumbed to his injuries on scene.
Cathedral City Police Detectives were called to the scene and began their investigation. After conducting a preliminary investigation, a suspect vehicle was identified and later located in the 35700 block of Date Palm Drive. A person of interest was detained for questioning.
INVESTIGATION UPDATE
On March 24, 2022, at approximately 1644 hours, Daniel Morales Jr. 29 YO, resident of Cathedral City, was arrested in connection with the murder of Juan Gonzalez. Morales was arraigned on Monday, March 28, 2022, on charges of PC 187(A) (Murder), PC 186.22 (Street gang-violent felony), PC 190.2(A)(21) (Discharge firearm from a vehicle), PC 12022.53 (E) (Association w/criminal street gang), PC 12022.53(D) Discharge firearm causing great bodily injury). He is currently being held on $2,000,000 bail at the Riverside County Southwest Detention Center.
ARRESTED
The Cathedral City Police Department is asking for assistance from the community. As a result of this investigation, Cathedral City Police Detectives were able to obtain a photograph of an outstanding suspect involved in this incident. The gold vehicle has since been recovered and is no longer outstanding. If you know the identity of the male in this photograph or you have information related to this incident, please contact Cathedral City Police Detective Brothers at 760-770-0330 tbrothers@cthedralcity.gov or Investigations Commander Sanchez at 760-202-2488, rsanchez@cathedralcity.gov or via the Cathedral City Police Department Website at: cathedralcitypolice.com. You may also report your information anonymously through the WeTip hotline at: 1-(800)-78-CRIME or WWW.WETIP.com. Some tip information may qualify for a cash reward.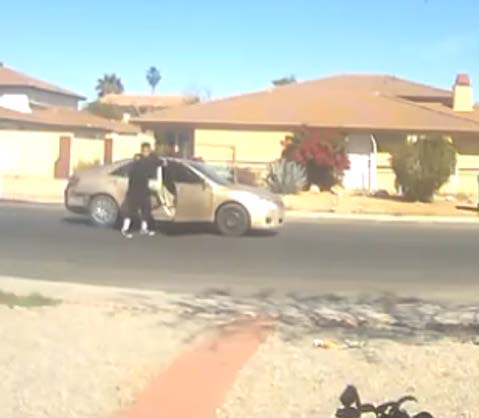 (Please note: Anyone related to or involved in the act of concealing, aiding or harboring this outstanding suspect, in order to protect them from arrest, trial, conviction, and/or sentencing can be arrested and charged with a felony – if you know the whereabouts of the outstanding suspect, please contact your local police or sheriff's department.)