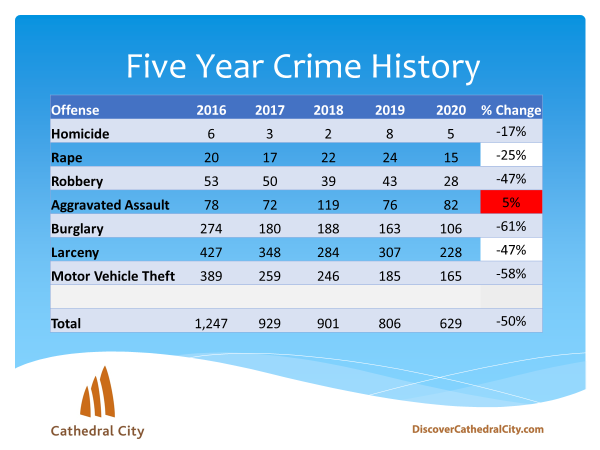 2020 was a year like none of us in Public Safety have ever seen or experienced. Many cities across the nation faced a significant increase in violent crimes yet decreases in property crimes. On the other hand, many cities experienced significant reductions in both violent crimes and property crimes. It is important to consistently review crime statistics and examine the historical crime data regularly.  This helps to measure our existing policing model and adapt to crime trends as they develop and/or transform.
The Cathedral City Police Department utilizes its current and historical crime data to deploy personnel more effectively and efficiently in order to reduce crime in our community. The graph below reveals a five-year comparison of Part 1 crimes covering calendar years 2016, 2017, 2018, 2019 and 2020.
In evaluating our Part 1 crimes from calendar year 2016 through calendar year 2020, I looked at the total number of Part 1 crimes committed each year and how they differ from previous years.
(2016) 1247 crimes, (2017) 929 crimes, (2018) 901 crimes, (2019) 806 crimes, (2020) 629 crimes.
As you can see, the number of Part 1 crimes in Cathedral City has decreased each year. Over the past five years, Part 1 crimes were reduced by 50%.  Homicide rates decreased by 17%, Rape decreased 25%, Robbery decreased 47%, Aggravated Assault increased 5%, Burglary decreased 61%, Larceny decreased 47% and Motor Vehicle Theft decreased 58%. It should be noted that felony domestic violence assaults are included in the overall number of Aggravated Assaults.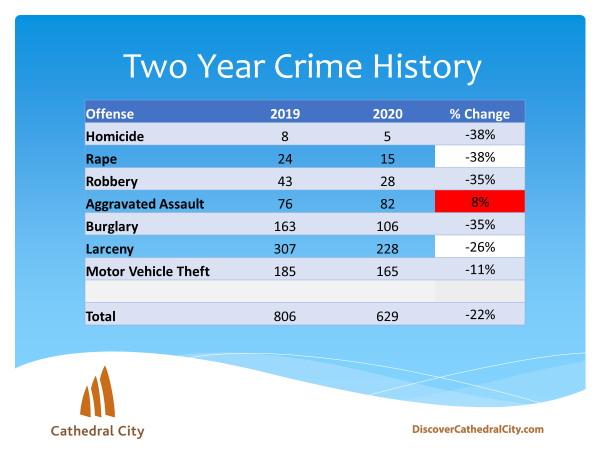 In comparing 2019 Part 1 crimes to 2020 Part 1 crimes, Cathedral City experienced an overall reduction of 22%.
On Tuesday, March 23, 2021, SafeWise, an organization that contextualizes national crime and safety trends, ranked Cathedral City amongst the top 50 safest cities in California. I have included the hyperlink for you to review the report.
Cathedral City ranked #39 this year among the Top 50 Safest Cities in California. Congrats! You can find the full report here:
https://www.safewise.com/blog/safest-cities-california/
Over the past five years, Cathedral City has continued to experience a decrease in Part 1 crimes, which are reported to the Department of Justice monthly. Our city's decrease in crime is attributed to several factors that include a responsive and proactive police department, having a trusting relationship with the community we serve, and having a good working relationship with our allied agencies throughout the Coachella Valley.