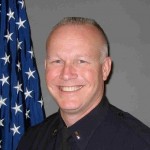 After several months of community and staff input, the City of Cathedral City announced today that it has selected Captain George Crum of the Fullerton Police Department to lead Cathedral City's police department. Captain Crum has served in law enforcement for more than 27 years and holds a master's degree in emergency management from California State University, Long Beach. He has been recognized for his outstanding leadership and vast involvement in his local community. Most recently, Mothers Against Drunk Driving honored Mr. Crum with the organization's first-ever "Drug Recognition Expert Award of Excellence".
Mr. Crum will take the helms of the department on December 10th as current Police Chief Kevin Conner retires. Chief Conner has served in the Cathedral City Police Department for more than 30 years.
As Chief of Police, Mr. Crum plans to continue his commitment of community involvement through a three-prong approach. First, he will begin by engaging in dialogue with the community through meetings and city events, and by reaching out to residents in their own neighborhoods. Visibility, he stresses, is the key to understanding the community's concerns and letting them know that you share their passion in addressing issues important to them.
Second, Chief Crum wants to develop a Homeless Liaison Team that works in collaboration with county mental health counselors and other safety-net organizations. Crum believes that a comprehensive approach that links social and mental health services to the individual will produce far greater results not only for the City, but also, for the individual involved.
Finally, Chief Crum will form an advisory council that brings together different groups within the community to provide input on how best to improve police services, address community concerns, and share information about the operation of the police department.
"Throughout the selection process, I was impressed with Mr. Crum's understanding of how the Police Department and the community must work together to keep the community safe and protected," stated City Manager Charlie McClendon. "I look forward to working with him as he brings his vision, experience and leadership to serve the City of Cathedral City."
Facebook