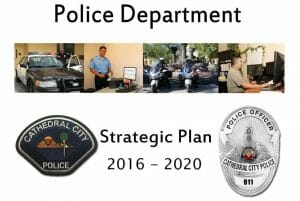 Strategic Planning is the foundation for the future of any organization. For the Cathedral City Police Department, our Strategic Plan not only serves as the foundation for how we will provide police services in the future but also serves as the department's vision for accomplishing needed change. The way in which we deliver services is founded in our belief in partnering with the community. The critical aspects of Community Oriented Policing are problem solving, service delivery and working with stakeholders in the community.
I am very proud of the men and women of the Cathedral City Police Department and what we have been able to accomplish as well as what we will focus on in the coming years. I am pleased to announce the Cathedral City Police Department's five year strategic plan will be available on our website once approved by City Council. Our strategic plan represents a collaboration and inclusion from Police Department personnel and community members from the Chief's Advisory Council.
This Strategic Plan is a dynamic document that is in a state of constant review and updating. As one goal is achieved, a new challenge will become apparent and that challenge will become the next objective. This Strategic Plan includes a timeline and details the strategies utilized to accomplish the objectives. It is the responsibility of each employee in the Police Department to coordinate efforts and resources to complete the objectives. The implementation year indicates the year in which the strategy should be completed, not when efforts towards accomplishing the strategy should commence.
The Police Department's strategic plan incorporates nine goals we will strive to accomplish over the next five years. The nine goals are as follows:
Prevent and Suppress Crime
Maintain Adequate Staffing Ratios
Maintain Priority One Response Times within Seven Minutes
Maintain and Enhance Partnerships with the Community
Participate with Multi-Agency Task Forces
Enhance Police Department Technology
Maintain Fiscal Efficiency
On-Going Department Review of Practices and Policies
Addressing Emerging Policing Trends in Our Community
Finally, the goals of this strategic plan not only include the work of sworn police officers, but just as importantly, the work of civilian employees and community volunteers. The development of this Strategic Plan was difficult work. Many of the goals and strategies address issues that are very complex and have existed in our community for many years. The people that have contributed to this Strategic Plan deserve a tremendous amount of credit and recognition. They are truly working to make the City of Cathedral City a safe place to live, work and visit. Please visit our website soon at www.cathedralcitypolice.com to view the strategic plan.
CCPD-Strategic-Plan-2016-2020-Final-4-19-16

If you are having display issues with this PDF file, click HERE to download