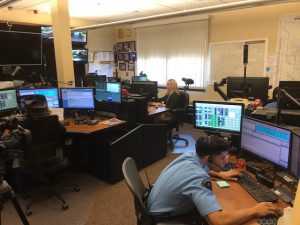 In April, the Cathedral City Police Department celebrated National Public Safety Telecommunicators Week to recognize the work of our Public Safety Dispatchers.  This article will walk you through what our dispatchers do for our community, and what you can expect when you call for assistance.
In a time of need, you will call 9-1-1 to report an emergency.  What are you supposed to say?  What are they going to ask?  Why are they asking me so many questions?  These are just some of the questions that I'm frequently asked by community members regarding calling 9-1-1.
Cathedral City's Emergency Communications Center employs fifteen full-time Public Safety Dispatchers, one part-time call-taker, and a Support Services Manager who oversees the Center's operations.  The dispatchers dispatch Police and Fire services in Cathedral City, as well as Police services for the city of Desert Hot Springs.  In 2017, our dispatchers answered a total of 212,077 calls, of which 49,901 were called via 9-1-1, and dispatched 84,089 calls to Police and Fire personnel.  I am pleased to report that the State of California praised our dispatchers for maintaining a 99.61% average for its answering time of 9-1-1 calls under fifteen seconds.
The following is what you can expect when you call to report an emergency, and how you can help our Public Safety Dispatchers best serve you:
When calling 9-1-1, please do your best to collect your thoughts and ensure that what you are calling to report is, in fact, an emergency (medical emergencies, crimes in progress or crimes that just occurred, traffic collisions, fires, etc…).
A dispatcher will answer and state, "9-1-1 emergency, what are you reporting?"  You are now in the hands of a person who is trained in dealing with crisis communications.  Your average dispatcher has received extensive training to assist with handling all types of calls from people facing emergency situations.  When a dispatcher answers 9-1-1, they must be ready for any type of call that gets reported.  They must also be ready to quickly, and accurately, collect facts, while making critical decisions based on a minimum amount of information.
The first decision the dispatcher must make is the type of emergency that you are reporting.  If you are reporting a medical emergency, the dispatcher is trained to ask several questions to determine the severity of the illness or injury.  This information is important to know, to ensure the correct resources can be dispatched to assist you.  If you are reporting a fire, the dispatcher will try to determine what is burning and where, because different fires require different types of fire suppression equipment.  An important thing to remember for all 9-1-1 calls is to stay on the phone and try your best to maintain your composure until the dispatcher tells you to hang up.  All dispatchers are trained to deal with hysterical callers.  Unfortunately, calming down a caller takes up valuable time that can be better served obtaining the critical information needed to dispatch units based on your call.
If your 9-1-1 call is for the police, the dispatcher must determine several valuable pieces of information:
Where do you need officers to respond?
Time frame?
Is anyone hurt?
What is your name?
Are there any weapons involved?
Where are you calling from?
Is anyone under the influence of alcohol/drugs?
What number are you calling from?
What happened?
Who did it?
What is the description of the suspect, vehicle, etc…?
Where did they go?
The dispatcher will gather enough information to start officers to the location, and then, will begin asking several follow-up questions to provide officers with information they need to take the appropriate action upon their arrival. They will ask questions about the suspect(s) that are least likely to change: suspect's race, gender, and approximate age.  Next the dispatcher will ask for approximate height and weight.  If you cannot remember how tall the suspect was, they will ask to compare their height to yours.  Clothing descriptions are also obtained by working from the top down (hat, shirt, pants), and from the outside in (jacket, shirt, etc).
If your call is about a crime in progress, officers will be dispatched while the dispatcher continues to ask you additional questions.  Please know the officers are being dispatched while they are asking these questions, so do not worry about any undue delay in response time.
As you can read, each time you dial 9-1-1, the call starts an intricate chain of events which are intended to provide you with the assistance you need.  Each 9-1-1 call is different and the dispatcher must be prepared to be the calming influence when dealing with all callers, no matter the crisis.  Furthermore, our dispatchers must always be flexible as there are no set of formulas when dealing with incoming phone calls, only general guidelines.  When dealing with people in crisis, flexibility is the key.  The dispatchers who handle 9-1-1 calls for Cathedral City use the best practices and are revered in their line of duty.  Your safety, the safety of your family, and the safety of our firefighters and police officers who respond to your emergency, depends on the communication skills and training of our dispatchers.  Please join me in thanking these professionals who play a major role in the safety our community.