FOR MORE INFORMATION CALL: Cathedral City Police (760) 770-0300
Issuing Employee: Sergeant Larry Sanfillippo – 760-770-0306 – lsanfillippo@cathedralcity.gov
Type of Case: Attempt Homicide / Case #2103-6123
Date/Time Reported: March 26, 2021 / 1849 hrs.
Location of Occurrence: 33300 Moreno Road, Cathedral City, CA (Ocotillo Park)
SUSPECT #1 INFORMATION:
Name: Ivan Raya-Reynoso
Age: 18
City of Residence: Cathedral City, CA
SUSPECT #2 INFORMATION:
Name: Juvenile (Not for release)
Age:
City of Residence: Riverside County
VICTIM #1 INFORMATION:
Name: Adult Female (Not for release)
Age:
City of Residence: Cathedral City, CA
VICTIM #2 INFORMATION:
Name: Juvenile Male (Not for release)
Age:
City of Residence: Cathedral City, CA
---
Summary:
On March 26, 2021, at approximately 1849 hours, Cathedral City Police Dispatch received 911 telephone calls reporting gunfire heard at The Ocotillo Park, located at 33300 Moreno Road, Cathedral City. Police were dispatched and arrived on scene where they located two victims, an adult female and a male juvenile with gunshot wounds that required medical care. Cathedral City Police Paramedics arrived to treat the gunshot victims and handled the medical transport. The scene was secured and at this time, the circumstances surrounding the shooting are being investigated by the Cathedral City Police Detectives.
Update/arrests: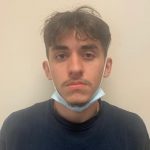 Officers were given information on two suspects that were seen by witnesses fleeing the scene. Officers were able to locate both suspects (an adult and juvenile) a short distance from the park and detained them without incident. Both were transported to the Cathedral City Police Department and subsequently arrested. The adult was later transported to the Riverside County Jail in Indio and the juvenile was transported to Riverside County Juvenile Hall.
Although the investigation is progressing, information is still vital to the closure of this case. The Cathedral City Police Department is asking for continued assistance from the community – if you have information related to this incident or believe you may have information, please contact Cathedral City Police Detectives at 760-770-0300 / Detective Sergeant Larry Sanfillippo at 760-202-0306, or via the Cathedral City Police Department website at: cathedralcitypolice.com or email tips@cathedralcity.gov. In addition, If you have information possibly associated with this incident, you may also report your information anonymously through the WeTip hotline at: 1-(800)-78-CRIME or WWW.WETIP.com or Crime Stoppers USA at: 1-(800)-222-TIPS. Some tip information may qualify for a cash reward.
Download Press Release Up-date for 2103-6123