FOR MORE INFORMATION CALL: Cathedral City Police (760) 770-0300
Issuing Employee: Sergeant Nathaniel Hanley – 760-770-0328 – nhanley@cathedralcity.gov
Type of Case: Discharge a firearm in a grossly negligent manner / #2008C-2348
Date/Time of Crime: August 9, 2020 / 2119 hrs.
Location of Occurrence: 68500 block of McCallum Road, Cathedral City CA 92234.
---
Summary: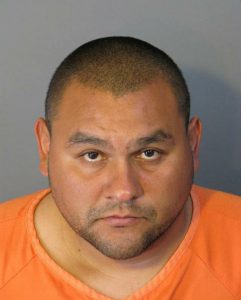 On August 9, 2020, at approximately 2119 hours, Cathedral City Police Department (CCPD) officers were dispatched to the area of 68500 McCallum Road regarding numerous reports of shots being fired in the area. One witness informed CCPD that the suspect was firing a shotgun over residential rooftops. Officers arrived on scene and through witness accounts and their initial investigation, discovered the gunfire came from a residence in the 68500 block of McCallum Road. Officers surrounded the residence and made numerous loudspeaker announcements requesting the suspect exit the residence. The suspect refused to exit the residence and barricaded inside.
Desert Regional SWAT was activated and responded to the scene due to the dangerous and violent nature of the crime. After an hour and a half long standoff, the suspect surrendered to CCPD officers without incident. The suspect was identified as Manuel David Davila DOB 9/10/75, a resident of Cathedral City. Davila was arrested for PC 246.3, discharging a firearm in a grossly negligent manner. CCPD Detectives responded and authored a search warrant for Davila's residence. During a search of the residence, officers located a 12-gauge shotgun and multiple shells of ammunition. Davila was later booked at the John J. Benoit Detention Center in Indio CA. Due to COVID-19 restriction Davila was later released on a promise to appear.
East and Westbound traffic on McCallum Road between Avenida Maravilla and Avenida Ximino were closed to motorists for several hours while the crime was under investigation. All roadways and lanes have now been re-opened. Attached below is a prior booking photo of Davila. A more current photo will be available from the Riverside County Sheriffs later in the day.
Cathedral City Police stress that discharging a firearm into the air is an extremely dangerous and serious crime. Unaware and uninvolved citizens can be gravely injured by these criminally negligent actions. Please ensure firearms safety precautions are taken when using your firearms for sport or recreation. Only discharge your firearms on approved ranges or in approved hunting areas.