FOR MORE INFORMATION CALL: Cathedral City Police (760) 770-0300
Issuing Employee: Commander Paul Herrera – 760-770-0308 – pherrera@cathedralcity.gov
Type of Case: Attempted Murder / #2001C-4695
Original Incident Reported: January 21, 2020 / 0400 hrs.
Location of Occurrence: 68300 Block of Tachevah Road, Cathedral City
SUSPECT INFORMATION:
Name:   Francisco Michael Fisher
Age:     21
City of Residence: Las Vegas, NV
---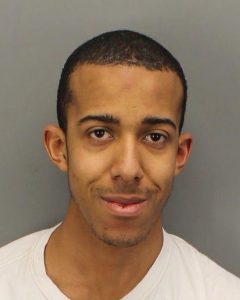 On January 21, 2020 at about 0400 hrs., Cathedral City Police Department (CCPD) Communications Center received 911 calls reporting a "stabbing", in progress.  CCPD officers responded to the scene – a residential home also an "Airbnb" short-term, rental location – and detained an unidentified adult male.
During the investigation, officers learned the following:  A group of Las Vegas-area adults were staying at the residence while at a local work-conference.  During the evening, Fisher made some social media posts that appeared disturbing or unusual and other co-workers felt he was possibly despondent.
In the early morning hours, another co-worker (unidentified) was awakened to being physically assaulted.  Other residents heard the commotion and found  Fisher stabbing his co-worker with a large kitchen knife.  They detained the suspect and called 911.  The victim (a 20-year-old male also from the Las Vegas area) had been stabbed multiple times by Fisher, in the upper torso, back and head.
CCFD Paramedics arrived and transported the victim to a local hospital for emergency medical treatment.  (His condition is not known at this time /  he has multiple serious injuries.)  The suspect also stabbed another unidentified male, who was attempting the stop the initial assault.  He was treated at a local hospital and released.
Fisher assaulted police officers during his arrest and was additionally charged with assault on a peace officer.  He was eventually medically cleared for jail booking and was booked at Riv.Co. Jail – Banning.  The motive for the assault is still under investigation at this time.
No booking photograph is available – has yet been uploaded by Riv. Co. Sheriffs Office.
No further information is currently available.