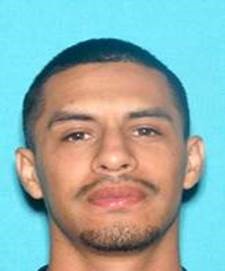 At approximately 1500 hrs., a Cathedral City Police officer saw a vehicle occupied by a wanted felon in the area of Ramon Rd and Gene Autry Trail.  (The wanted felon was the driver of the vehicle; he was considered a parolee at large and wanted as a suspect in at least two other felony incidents in Cathedral City.  He was wanted for his involvement in an assault with a firearm and a separate incident last night in which he was driving a stolen vehicle and led officers on a vehicle pursuit.)  The officer attempted a traffic stop but the driver failed to yield, which led to a vehicle pursuit, northbound on Gene Autry Trail.  At the intersection of Artisan Way, in the City of Pam Springs, the driver failed to yield for traffic at a red signal light and collided with at least two other motorists in the intersection.  The driver then fled on foot along with two unidentified males who also fled from officers.
Palm Springs Police Department officers responded to the scene, along with the Palm Springs Fire Department.  The Palm Springs Police Department handled the collision investigation and the Palm Springs Fore Dept. coordinated medical transport for at least one passenger involved in the collision.  No further information is available on their condition and their identity will not be released.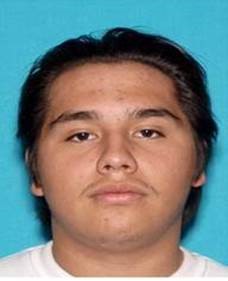 Cathedral City Police officers established a perimeter in the residential neighborhood northwest of the collision scene.  They were assisted by the California Highway Patrol Air Operation Unit and the Eastern Region P.A.C.T. (Post-Release Accountability Compliance Team).  Eventually, officers located all three fleeing suspects in the area near East Camino Rojos and Via Roberto Miguel in Palm Springs.  The suspects taken into custody were:
Juan Antonio Reyes Jr., 18 of Cathedral City – Male passenger – arrested for resisting, obstructing a police officer and possession of a loaded handgun.
JUVENILE male passenger (confidential) – arrested for resisting, obstructing a police officer and possession of a loaded handgun.
Luis Ortiz, 24, of Cathedral City – arrested for parole violation(s), assault with a deadly weapon, felon in possession of a loaded handgun, vehicle theft, felony evading police officers and leaving the scene of an injury collision. (Other charges are pending.)
At this time all three suspects are in custody in at CCPD and charges are pending  / they are awaiting jail booking.  The Cathedral City Police Dept. would like to thank the community members who assisted in identification and apprehension of these suspects.  No other information is available at this time.