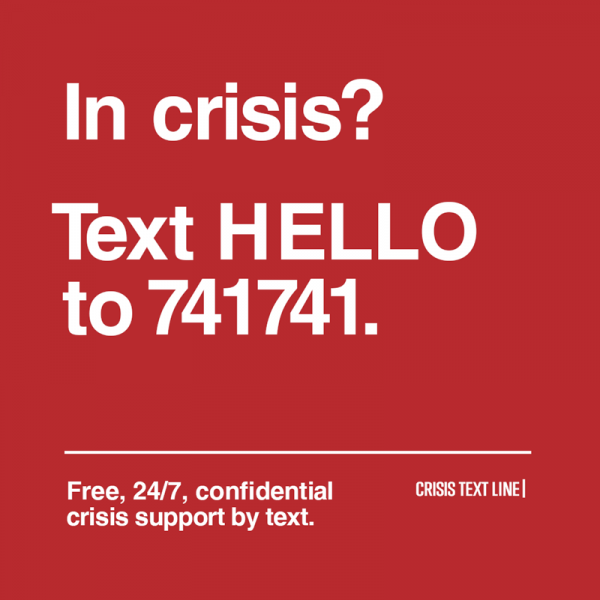 As the year comes to a close, I wanted to take a moment and make you aware of a new service that is available to those who might be struggling.  As of July of this year, a new law went into effect requiring that all student identification cards issued to California high school and middle school students have the Crisis Text Line (CTL) and other suicide prevention resources on the back of the ID.  The Crisis Text Line is available to everyone.
This Crisis Text Line is free, 24/7 support for those in crisis. Text 741741 from anywhere in the US to text with a trained Crisis Counselor. Crisis Text Line trains volunteers to support people in crisis, with over 100 million messages processed to date.
A Supervisor from CTL will call emergency services when they have a texter at imminent risk of suicide or homicide who is unwilling to "safety plan" with the hotline and has not shared their location. CTL will follow a strict set of guidelines when making this determination as they are texting.  Crisis Counselors only know what texters share with them, and that information stays between the caller and the crisis counselor, unless sharing it with emergency services is absolutely necessary for your safety.  The Police Department and the CTL take your confidentiality seriously.
The CTL Supervisor will only have the texter's phone number when they call law enforcement.  They will call the LE agency most closely associated with the area code the caller is using, unless the texter gives them additional location information.
The Cathedral City Police Department Communications Center will do their best to help by taking as much information as they can, such as the time frame, means and plan. We will create a call for service to document the contact we had with Crisis Text Line and do our best to get the texter the help they need.  If we find that the caller does not live in our jurisdiction, then we will call the appropriate agency to pass the call along.
Sometimes the holiday season can be difficult.  There is no shame in seeking help and we hope this Crisis Text Line is one way for those in need to get help before any harm is done.  Remember, you can always call on your police department should you ever need us.  Have a great Christmas and a Happy New Year.