Contact: Commander Jon Enos (760) 202-2415, email: jenos@cathedralcity.gov
Type of Case: Criminal Threats / Weapons Violations
Date/Time: February 8th, 2023 – 9:00 AM
Location of Occurrence: 67700 Block of Verona Road
Suspect: Roman Rodriguez
Age: 39
Residence: Cathedral City
Charges: Child Endangerment, Felon in Possession of Firearms and Possession of Unregistered Weapons
Suspect: Juvenile
Age: 12
Residence: Cathedral City
Charges: Criminal Threats
---
Synopsis of Incident: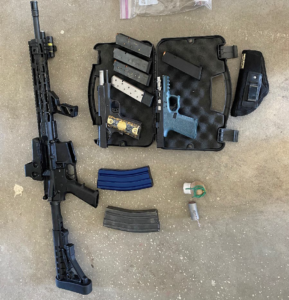 On January 8th, 2023, at about 9:00am, patrol officers responded to James Workman Middle School, regarding a student who had sent a video to other students making threatening statements while displaying handguns. Officers responded and spoke to school officials and determined the 12 YO, male student, who was not present at school, had displayed two handguns in the video.
With the information provided, Cathedral City Police Detectives were requested to lead the investigation. A search warrant was requested and ultimately granted by a Riverside County Judge for the juvenile's residence in the 67700 block of Verona Road, Cathedral City. Since the residence was near Rio Vista Elementary, the department requested the school to go on lockdown for safety precautions. At 11:25 AM, the school went on lockdown at our request. The search warrant was served at 11:35 AM, and two persons were detained at the residence. The school was notified the lockdown could end at 11:46 AM. During the search of the residence, three firearms were located in the residence, including the ones depicted in the video.
During the investigation, Roman Rodriguez was arrested for child endangerment, felon in possession of a firearm, possession of an illegal rifle, and possession of unregistered firearms. He was transported to the Riverside County Jail in Indio.
The juvenile in this case was taken into custody for criminal threats and transferred to the Indio Juvenile Hall.
The department wants to remind and encourage parents to monitor their child's activity on their cellular phones, social media accounts and gaming apps with chat features. Parents should regularly check the contents, including pictures and videos, on their child's cellular phone.
If you have information related to this incident or believe you may have information, please contact the Cathedral City Police Department at (760) 770-0300; or via the Cathedral City Police Department website at: cathedralcitypolice.com; or email tips@cathedralcity.gov. You may also report information anonymously through Coachella Valley Crime Stoppers, by calling (760) 341-STOP; or through the WeTip hotline at: 1-(800)-78-CRIME or WWW.WETIP.com. Some tip information may qualify for a cash reward.