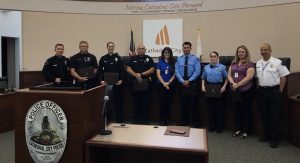 The first few months of the year have been an exciting time for your police department.  In our continuing efforts to provide the community with progressive and professional police services, we have been able to add personnel to our staff to deal with increasing demands.  We celebrated our newest staff members with a small ceremony, where we were able to learn more about each of them and share a meal.
Adrian Martinez, Alberto Felix, and Brooke Kohrell are our newest officers.  Both Adrian and Alberto come to us with multiple years of experience, while Brooke is a recent graduate from the Riverside County Sheriff's, Ben Clark Training Center Basic Academy.  The three of them are college educated and bring a lot to our community.
Two new Public Safety Dispatchers have also joined us.  Amy Burningham and Erica Collins.  The staff in our Communications Center is very busy and they have been a welcomed addition to the team.
The Cathedral City Police Department's Records Division has also added a new position.  Gabby Torres brings several years of experience in records management to us and we are grateful to have her.
All employees go through a very thorough background check and once hired require a significant amount of training.  Background Investigator Mark Hardy has joined the department to help us with the hiring process and our new Training Coordinator, LeAnn Carrillo, will coordinate the training needs of our staff.
We have two new Police Cadets, Jesus Felix and Kaelee Henderson.  They are a huge asset to our staff and assist wherever they are needed.  From working in Records to helping officers in the field, their assistance frees up the time for other staff members to finish the more complex tasks.
Finally, the two newest additions to our Citizens on Patrol team are Danny Lee and Tom Hahn.  The men and women of our volunteer force help the police department and community with a variety of duties.  They check on your home when you are away on vacation, they deal with abandoned vehicles on our city streets, and so much more.  Our volunteers donate thousands of hours of their time during the year in service to our community.
If you see them in the Police Department or out in the community, please say hi and welcome them.