FOR MORE INFORMATION CALL: Cathedral City Police (760) 770-0300
Issuing Employee: Sergeant Larry Sanfillippo – 760-770-0306 – lsanfillippo@cathedralcity.gov
Type of Case: Assault with a Deadly Weapon / #2101C-7416
Date/Time Reported: January 28, 2021 / 1918 hrs.
Location of Occurrence: 31100 block of Shifting Sands Trail, Cathedral City, CA
VICTIM INFORMATION:
Name: Not Released
Age:
City of Residence: Cathedral City, CA
ARRESTEE INFORMATION:
Name: Anthony Colon
Age: 18
City of Residence: Thousand Palms, CA
---
Summary: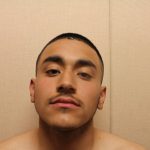 On January 28, 2021, at approximately 1918 hours, Cathedral City Police Department (CCPD) officers were dispatched to the 33100 block of Shifting Sands Trail regarding a shooting that just occurred. Upon arrival, officers located a male victim with a gunshot wound. Cathedral City Fire Department Paramedics responded to the scene and transported the victim to an area hospital with a non-life-threatening injury.
Cathedral City Police Department Detectives actively pursued leads, obtaining information that led to the positive identification of the suspect. Detectives obtained a search warrant for the listed suspect's residence.
On February 4, 2021 at about 1615 hours, Riverside County District Attorney's Office Gang Impact Team (GIT) served the search warrant at the residence of Anthony Colon. Anthony Colon was subsequently arrested for PC 245 – Assault with a Deadly Weapon and PC 29800 – Felon in Possession of a Firearm and booked into the Riverside County Jail.
Although an arrest has been made, if you have information related to this incident or believe you may have information, please contact Cathedral City Police Detectives at 760-770-0300 / Detective Sergeant Larry Sanfillippo at 760-770-0306 or via the Cathedral City Police Department website at: cathedralcitypolice.com.
If you have information possibly associated with this incident, you may also report your information anonymously through the WeTip hotline at: 1-(800)-78-CRIME or WWW.WETIP.com. Some tip information may qualify for a cash reward.