FOR MORE INFORMATION CALL: Cathedral City Police (760) 770-0300
Issuing Employee: Commander Julio Luna – 760-770-0315 – jluna@cathedralcity.gov
Type of Case: Armed Robbery Investigation / #2101C-4249
Date/Time Reported: February 2, 2021/ 1355 hrs.
Location of Occurrence: 68050 Encenitas Rd., Cathedral City, CA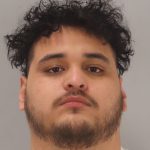 SUSPECT #1 INFORMATION:
Name: Hood, Danny
Age: 23
City of Residence: Cathedral City
SUSPECT #2 INFORMATION
Name: HMA Black Hoodie
Age: UNK
City of Residence: UNK
VICTIM INFORMATION:
Name: Not for release
Age:
City of Residence: Cathedral City, CA
---
Summary:
On January 16, 2021, at approximately 1930 hours, Cathedral City Police Dispatch received a 911 telephone call reporting an assault and robbery of a male subject in the area of Ave La Paz/ Vista Chino Rd. The male victim was located, who reported being assaulted and robbed by two Hispanic Adult Males. The victim indicated one of the assailants was armed with a handgun. During the assault the male victim was robbed of his wallet. The suspects(s) were seen fleeing in a gray/white 4-door sedan. The robbery was documented by patrol and forwarded to CCPD Detective Bureau for follow-up.
Cathedral City Police Department Detectives actively pursued leads, obtaining information that led to the positive identification of one involved suspect. Detectives obtained a search warrant for the listed suspect's home.
On February 2, 2021 at 0600 hours, Desert Regional SWAT served the search warrant at the home of Danny Hood at the listed location. Danny Hood was subsequently arrested for PC 245- Assault with a Deadly Weapon/ PC 211 Robbery/ PC 422 Criminal Threats and booked in Riverside County Jail in Indio.
Cathedral City Police Department Detectives are actively working additional leads in this case, however, the Police Department is asking for assistance from the community – if you have information related to this incident or believe you may have information, please contact Cathedral City Police Detectives at 760-770-0300 / Detective Sergeant Larry Sanfillippo at 760-202-306 or via the Cathedral City Police Department website at: cathedralcitypolice.com.
Photo: Danny Hood 23 years of age / 68050 Encinitas Road, Cathedral City, CA 92234.